pet-interiors
114001
Neu
Designer cat bed ARENA felt
The ultimate cosiness in this designer pet furniture.
ARENA is a unique designer cat bed made from felt. Its enchanting shape with the additional back cushion ensures support and protection, inviting you to cuddle and chill. The comfortable cat pillow has a orthopaedic latex-filling specifically developed for pets. It makes absolutely no noise when the cat moves, thus enabling a relaxing and restorative sleep.

Size small: height 25 cm, width 65 cm, depth 55 cm, Lying surface: ca. 55 x 45 cm
Size big: height 30 cm, width 85 cm, depth 75 cm, Lying surface: ca. 75 x 65 cm
Material cat basket: 100% felt
Cushion cover fleece: cozy & warming, washable
Cushion cover cotton: durable & cooling, easy clean, washable
Cushion cover velour: cozy & durable, easy clean, washable
Inner cushion filling: orthopaedic 100% high quality latex cushion, mite resistant, washable
Inner cushion cover: 100% cotton
Ready to ship within 2-5 business days.
5-year guarantee on the pillow filling
Customized size on request
Material samples for the designer cat bed ARENA on request.

Cleaning:
Felt: Soiling can be rubbed off with a damp cloth and neutral soap.
Hair is best removed with the upholstery brush of the vacuum cleaner.
Pillow cases: washable at 30° in the washing machine, suitable for tumble drying
Cushions & filling: washable at 30° in the washing machine.
more product infos >>
Felt colours

Fleece colours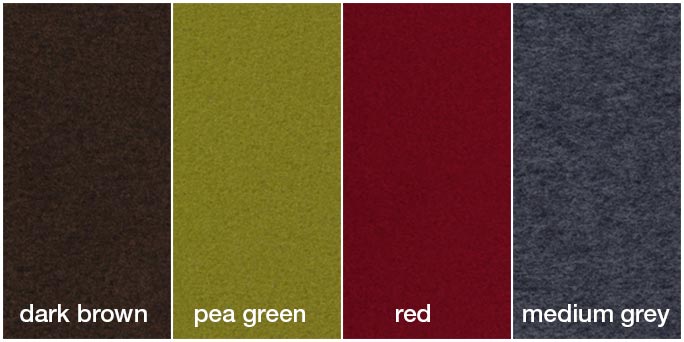 Cotton:


Velours: